Symbol of hot spring city
Industry Expo", the "Beppu Tourism Development" established by local businessmen invested more than 280 million yen to build it. On the way, the project was delayed due to capital turnover problems, and the completion of the project failed to catch up with the opening of the Expo.
In fact, it is not that the guests will come after the tower is completed, but because of the publicity team and organization of Beppu Tower, they have conducted a remarkable and persistent national tour in Hokuriku, Kanto, Kansai and other places in Japan.
As a result, during the school trip season in Japan, Beppu Tower can provide 4,000 meals a day, and it is a major tourist attraction that gathers more than 900,000 tourists every year.
Also, when the recruiting of salespersons began after the Beppu Tower was completed, thousands of applicants lined up from the front of the Beppu Tower to the street in front of the Beppu Station. Although the face of the street below is constantly changing, the 360-degree view is ubiquitous, and as long as the tower is still standing, visitors can see it. Beppu Tower, celebrating the 60th anniversary of its completion, was designated as a national "registered tangible cultural property" in the same year (2007). As a city of hot springs, Beppu's landmark buildings are loved by people. In commemoration of its 65th anniversary, Beppu Tower will be refurbished and opened on January 27, 2023. Its color has reproduced the color at the time of completion, and the height has also been restored from 90 meters to the original 100 meters. The observation floor was extended to two floors, the interior decoration was completely new, and a terrace was set up on the roof of the fifth floor. At the same time, starting from the fifth floor, an intermediate observation deck that can go up has also been developed. Not only that, Beppu Tower is also equipped with artistic lighting equipment, Japan's first LED lighting equipment that gradually changes according to seasons and events.
Please enjoy the panoramic view of Beppu city and Beppu Bay!
Creator of Beppu Tower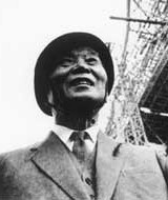 内藤 多仲
Naito Tachu
1886~1970
The designers of five major cities across the country, including Tokyo Tower and Tsutenkaku Tower, and Beppu Tower, collectively known as the "Six Tower Brothers",Tachyu Naito, an honorary professor at Waseda University, has designed steel frame structure radio towers and sightseeing towers many times, known as "Tower Ph.D.".